Warnings
Submitted by admin on Fri, 25/11/2011 - 05:03.
Printer-friendly version
Due to incorrect information being given to a number of pharmacists during their flu vaccination training programme, some patients have received only half the recommended dose (paediatric dose) of the flu vaccine.
These patients will be contacted by their pharmacist in the coming days to return for a revaccination. The vast majority of patients however have received the correct dose.
Submitted by admin on Fri, 26/08/2011 - 13:37.
Printer-friendly version
The Irish Medicines Board (IMB) has today issued a wholesale recall of Nurofen Plus tablets, due to possible contamination with rogue blister strips of either Seroquel XL 50mg Tablets (a schizophrenia and depression tablet) or Neurontin 100mg Capsules (used to treat epilepsy). Patient Information Leaflets may also have been affected.
Submitted by admin on Fri, 16/01/2009 - 04:28.
Printer-friendly version
A number of Irish hospitals have introduced visitor restrictions due to outbreaks of the so called winter vomiting bug. This is a particularly unpleasant and highly contagious Norovirus infection resulting in acute gastroenteritis within 12 to 48 hours after infection (good hand hygiene is crucial!).
Its signature symptoms are acute onset vomiting, watery diarrhoea, abdominal cramps, and nausea, often accompanied by myalgia, malaise and headache. Certainly not something you would want to suffer through if there was any way to avoid it. So what can we do if we find ourselves or our family members developing those symptoms? Not much according to most Irish doctors as it seems they are convinced there is no treatment for it outside of bed and rehydration. Luckily that's not entirely true.
Submitted by admin on Sat, 10/05/2008 - 23:55.
Printer-friendly version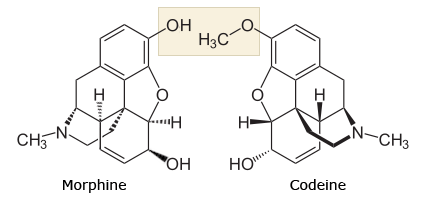 Image 1: Morphine and codeine structures are very similar.
Codeine is a weak opiate analgesic, with antitussive and antidiarrheal properties. It is widely used either alone or in combination with paracetamol to relieve pain and/or treat cough. After ingestion, the cytochrome P450 enzymes in the liver metabolize it to morphine, a powerful opiate that acts on the central nervous system to relieve pain. The speed of this conversion varies between people, with some of them, so called ultra-rapid metabolizers, converting codein into morphine very quickly. When breastfeeding mothers, who are ultra-rapid metabolizers, take codeine preparations they may also have higher-than-usual levels of morphine transferred to breast milk.