Safety of Cold Medicine in Young Children Under Scrutiny
Submitted by admin on Sat, 17/05/2008 - 12:38.
Printer-friendly version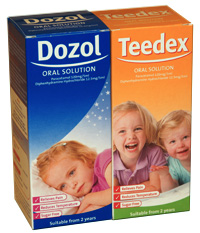 Image 1: New Teedex and Dozol packageing.
In October 2007 a panel of US government advisers concluded that over-the-counter cold and cough medicine should not be given to children aged between 2 and 5 years as there is no proof of their efficacy. In March 2008 the British followed suit, but only limited the sale of cough and cold medicines for children under 2 years old. To date the Irish Medicines Board has only issued a statement saying that the use of cough medicine in children in under review, but has not taken any action in this respect.
FDA scrutinised cough and cold medicine for children, taking a close look at their efficacy and safety. Taking FDA's recommendations into consideration, government panel members voted 13 to 9 in favour of the proposal to withdraw cold medicine for children between 2 to 6 years old.
Despite the lack of evidence supporting the safety and efficacy of children's cough and cold medicines, in US alone, drug companies are spending $50 million on advertisements for these medicines.
Some products like Dimetapp, Pediacare, Robitussin and Triaminic (available in US), have never been tested in children. Cough and cold medicines were simply approved decades ago by extrapolating results gathered in adults (calculating smaller dosages based on children's age and size) assuming children were smaller versions of grown-ups. Latest researches suggest that was incorrect, showing that pediatric cough and cold medicines are no better than dummy pills (placebos) in treating the symptoms.
Committee member Sean P. Hennessey, PhD, of the University of Pennsylvania School of Medicine, said the over-the-counter cold medicines should not be used in children "given that there's no evidence of efficacy of the drugs and there's evidence of harm of the drugs."
The FDA is now considering banning the marketing of the drugs for use in children with the exception of those that are corroborated to be safe and effective in children. Because of the lack of studies, how the medicines affect children, panel called for more research in this area.
"The vast majority of consumers are using these medicines properly and serious adverse events are rare," said Linda Suydam, president of the Consumer Healthcare Products Association, which represents makers of over-the-counter drugs.
Even though drug industry states their medicines are safe and effective, misuse or overdose could lead to death and injury. Combination products can be particularly misleading and dangerous for overdose as parents sometimes do not realise they are duplicating the ingredients.
"I don't recommend their use in any child," said Dr. Daniel Frattarelli, a pediatrician from Detroit who serves on the American Academy of Pediatrics' committee on drugs. "These medicines don't help, they may hurt, so don't use them."
Dr. Andrew D. Racine, a pediatrician at the Children's Hospital at Montefiore in the Bronx, said most parents who gave cold medicines to young children were just hoping for a good night's sleep themselves.
In UK the ingredients that will no longer be licensed for children under 2 are the antihistamines brompheniramine, chlorphenamine and diphenhydramine, cough suppressants dextrometorphan and pholcodine, expectorants guaifenesin and ipecacuanha and decongestants phenylephrine, pseudoephedrine, ephedrine, oxymetazoline and xylometazoline.
In ROI the only products licensed for use in children under two with any of those ingredients are Dozol and Teedex. They contain 120 mg of paracetamol and 12.5 mg of diphenhydramine HCl per 5 mL.
As the above example demonstrates, parents should be careful when concurrently using two or more cough and cold products, since many of them contain one or more of the same ingredients. One particularly notorious ingredient in that regard is paracetamol, which can be found in Calpol, Panadol Baby Suspension, Paralink, Dozol and Teedex.
If we also include cough and cold medicines for older children and adults the list becomes much longer. Paracetamol is the main ingredient in the following brands available in ROI: Anadin Extra, Benylin Day and Night, Benylin Four Flu, Boots Paracetamol, Calpol, Day Nurse, Disprol Soluble, Dozol, Feminax, Hedex, Lemsip, Night Nurse, Sinutab, Panadeine, Panadol, Paralink, Paralief, Paramax, ParaPlus, Solpadeine, Solpa-Sinus, Teedex and Tramil. A grand total of 23 brand names!
The UK Medicines and Healthcare products Regulatory Agency (MHRA) has issued the following recommendations for sale and supply of cough and cold medicines to children under 2:
Paracetamol or ibuprofen to relieve pain and lower temperature.
Simple non-pharmacological cough mixtures for the treatment of coughs (for example pediatric simple linctus or those containing glycerol or honey and lemon [or simple herbal syrups like plantain, marsh mallow or pine shoots syrup]).
Vapour rubs and inhalant decongestants which can be applied to children's clothing to provide relief of stuffy or blocked nose for children and infants over 3 months.
Saline (Sodium Chloride 0.9%) nose drops can be helpful particularly in infants who are having difficulty feeding.
The same principles can be applied to children over 2 years old, although there are a range of other over the counter cough medicines that may be given to children over 2.
Sources: Cough medicine banned for children under two as 100 remedies are taken off the shelves (Daily Mail), FDA Panel: No Cold Medicine for Young Children (Medscape), Pediatricians to FDA: No cold meds to children under 6 (CNN), Manufacturers Remove Drugs for Infant Cold (The New York Times)
Delicious
Digg
Facebook
Google

35908 reads