Warning Against Nursing Mothers Taking Codeine
Submitted by admin on Sat, 10/05/2008 - 23:55.
Printer-friendly version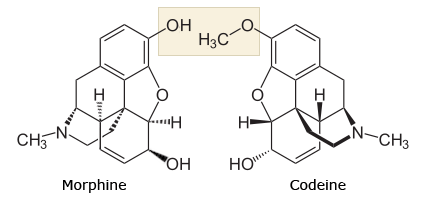 Image 1: Morphine and codeine structures are very similar.
Codeine is a weak opiate analgesic, with antitussive and antidiarrheal properties. It is widely used either alone or in combination with paracetamol to relieve pain and/or treat cough. After ingestion, the cytochrome P450 enzymes in the liver metabolize it to morphine, a powerful opiate that acts on the central nervous system to relieve pain. The speed of this conversion varies between people, with some of them, so called ultra-rapid metabolizers, converting codein into morphine very quickly. When breastfeeding mothers, who are ultra-rapid metabolizers, take codeine preparations they may also have higher-than-usual levels of morphine transferred to breast milk.
Since codeine usually passes into breast milk in only very small amounts, breastfeeding mothers have been using codeine safely for many years. Last year however, morphine received through breast milk, was the cause of death of a healthy 13-day-old infant. Mother had been prescribed codeine for episiotomy pain, at a dose that is normally safe, however genetic testing later revealed that she was an ultra-rapid metabolizer of codeine.
The only way to determine if someone is an ultra-rapid metabolizer of codeine is through a genetic test, identifying the CYP2D6 genotype. According to the FDA, depending on ethnicity, approximately 1 to 28 per 100 individuals are ultra-rapid metabolizers of codeine.
If nursing mothers are taking codeine or other narcotic pain relievers, FDA advises them to be extra vigilant for signs of overdose. They should not hesitate to contact their doctor if the baby is somnolent, sleeping for more than 4 hours at a time, has breastfeeding or breathing difficulties or if they become sleepy or very constipated themselves.
In it's May 2008 safety notice, the Irish medicines board (IMB) advised that breastfeeding mothers should not use codeine unless prescribed by a physician. The lowest effective dose should be used for the shortest possible time.
Sources: Warning for Nursing Mothers Taking Codeine (FDA), FDA Warns Against Codeine for Mothers of Nursing Infants (Medscape), Codeine (Wikipedia)
Delicious
Digg
Facebook
Google

8594 reads