Smoking Cessation
Submitted by admin on Sat, 20/10/2007 - 23:23.
Printer-friendly version
NICOTINE IS AN ADDICTIVE SUBSTANCE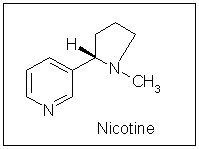 Image 1: Nicotine.
Nicotine is an alkaloid found in the nightshade family of plants (Solanaceae), predominantly in tobacco. In low concentrations (an average cigarette yields about 1 mg of absorbed nicotine), the substance acts as a stimulant in mammals and is one of the main factors responsible for the dependence-forming properties of tobacco smoking.